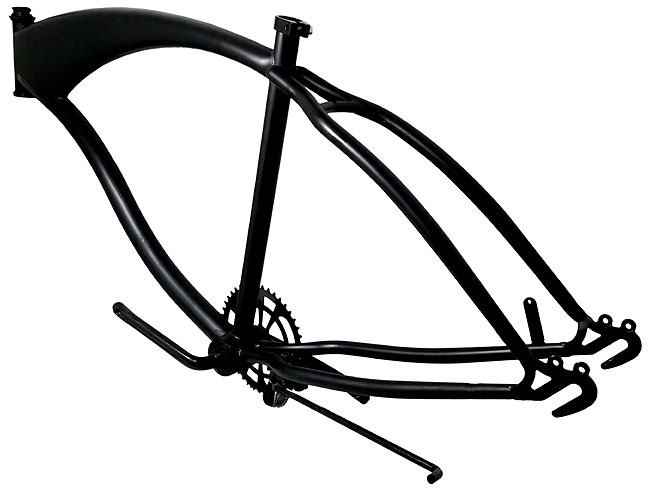 An extended frame set for building an individual
Cruiser Bike
Custom Tank-Cruiser KIT!
Frame 18 "
for wheels 26x3.0"
On the offered frame, depending on the size of the wheels and handlebar used, you can build a bicycle
the most convenient for people with a height of 160-185 cm
The set includes:
Frame: Hi-Ten steel - size 18 "(45.5 cm)
head tube 1 "12 cm
black matte color
Headset: threaded black
Crank: OPC 165 mm with 44T sprocket black
Kickstand: black steel
Seatpost clamp: black
Seatpost: black steel
Weight of the set: 6 kg
Recommended wheel size up to 26x3.0 " on 55 mm wide rim
Use a fork with
headtube
1 " (25.4) and a length of approx. 155 mm - with a longer one, check the thread length and use spacers available in our offer or cut and use AHEAD headset
mounting width of the rear hub 11,5 cm
coaster / torpedo brake - fixing with a clamp
distance from the seatclamp to the BB axis of 45.5 cm
distance from the axis of the seatclamp to the head tube axis 64 cm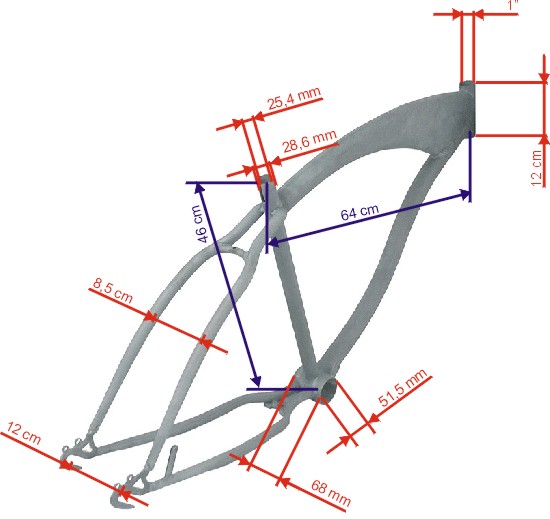 The surface may have minimal technology and transport scratches on paint .
FOR PEOPLE WHO NEED PERFECT SURFACE WE RECOMMEND ORDERING RAW PRODUCT FROM OUR OFFER AND PAINT IT LOCAL.
We deliver only in area of the European Union
Available payment method - EU bank transfer / PayPal