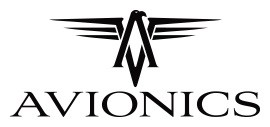 Price excl. tax, freight & duties
*For companies registered in the European Uni on
possible purchase NETTO with 0% VAT Tax
For private individuals, the tax will be charged later in the procedure
AVIONICS V2 e-Bike
black matte
FUSION OF NATURE PREMIUM DESIGN AND ENGINEERING
POWERED BY ELECTRICITY
THE VISION OF THE FUTURE
COMBINED WITH A MEMORY OF THE PAST
UNIQUE COMBINATION OF METAL, WOOD AND LEATHER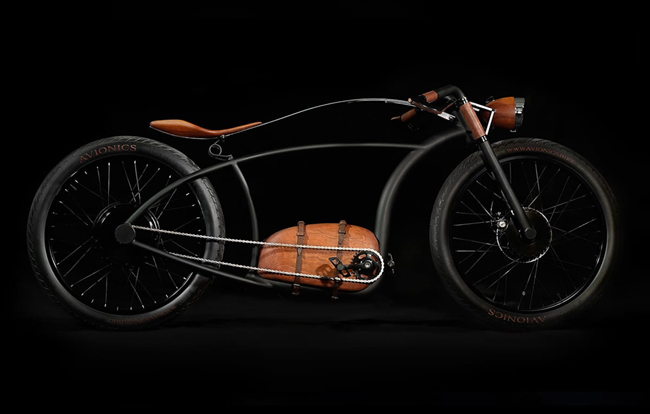 AVIONICS is a pure form, designed to merge contrasts. Wood with steel, smooth lines with sporty character, wildness with nobility. The harmonic combination of a steel frame with a wooden saddle, box and light represents both power and purity and Spartan exclusivity.
Spartan because of its simplicity and reliability.
Exclusive because you feel special when you use it.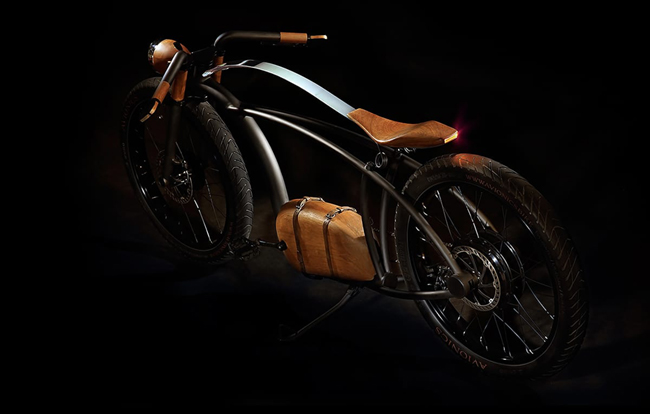 TECHNICAL DETAILS
Max. speed
58 km/h (36 mph)
Range
120 km (75 mi) in Street Mode
Engine
4,000 watt brushless electric
Street Mode
250, 500, 750 watt
Battery
Lithium-Ion 27.6 Ah (1380 Wh)
Charging time
2.5 -3 hours
Controller
Sinewave Controller
Recuperation
Brake energy recuperation
Disc brakes
203mm (8 inch) front and back
Saddle
Wooden from Jatoba
Handgrips
Wooden grips from Jatoba
What we see is not enough! The essentials are invisible to the eye. The heart of AVIONICS is electronics and performance! This e-bike deserves the best, that's why is equipped it with a sine-wave controller, which is the best and most advanced type of e-bikes controller. This solution is used in electric motorcycles and is an advanced onboard computer. Sine-wave controllers are usually never used in 'common-or-garden' e-bikes. Normally, other e-bike producers use just a simple block driver that lacks crucial adjustments. AVIONICS is the answer for those who appreciate an individual, flexible and friendly approach. In a "force mode", you can transform it into a wild road speeder for an adrenaline kick or a sophisticated e-bike for a calm "walk" in the park. Feel free to get off the ground with the tire squeal!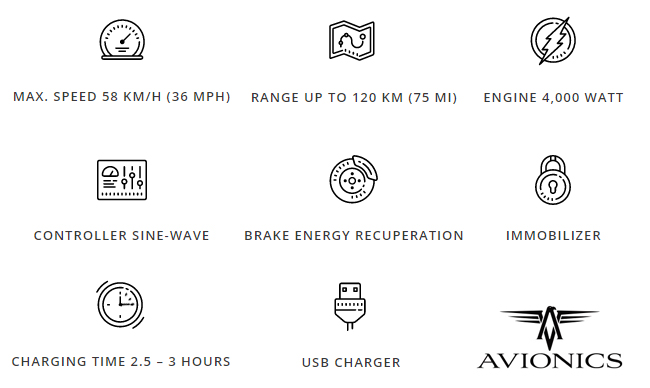 HANDMADE BIKE IN A PREMIUM CLASS
MADE BY MASTERS OF THE CRAFT
CHROME PLATED HEADLIGHT
Powered by Cree® XLamp XM-L LED bulbs.
Max Light Output 1000lm
203MM DISC BRAKES
The biggest 203mm front and back disc brake rotors
for optimal braking power at 58 KM/H.
BRIGHT, POWERFUL GLOW
18 COB LEDS
Light Output 15lm
HIDDEN WIRES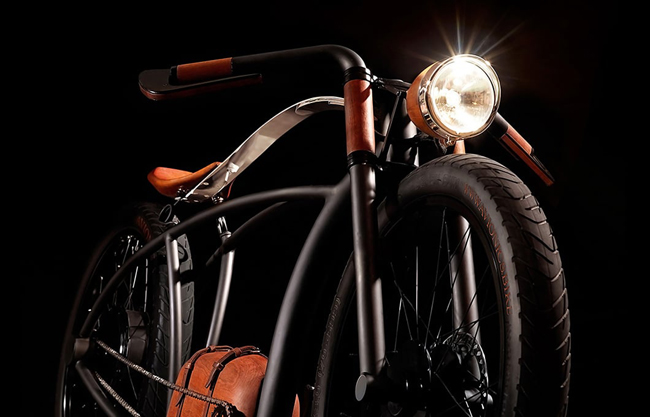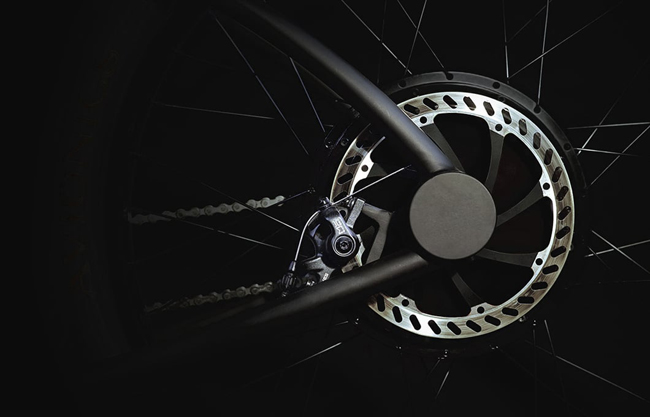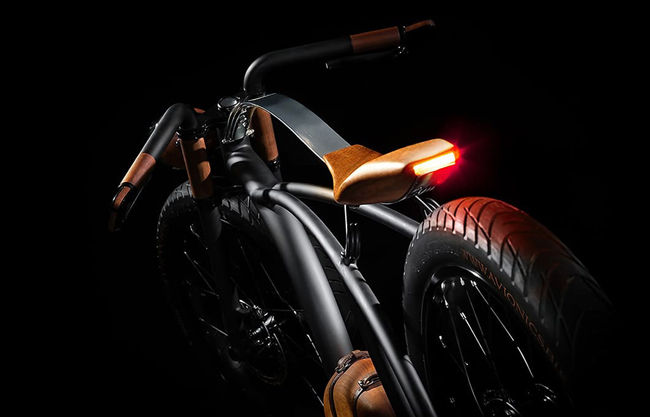 DESIGN
An openwork frame holds the wooden saddle that hangs on a shock absorber. This exceptional construction identifies AVIONICS. The leaf spring with its upper pipes of frame suggests the wing section. The wing ends with the saddle springs. Just behind the saddle is a perfectly adjusted back lamp.
The front lamp, just like the other wooden components, is made from the wood of the exotic tree, Jatoba. This is extremely hard and difficult to process, being a precious wood that is as strong as steel. Oiling and time develop its exceptional character. The color is deeper and the grains are more visible.
The soul of AVIONICS is a lamp and its name. Every single bike has a name with a dedicated, unrepeatable lamp. The golden, warm light she emits makes night riding enjoyable and safe.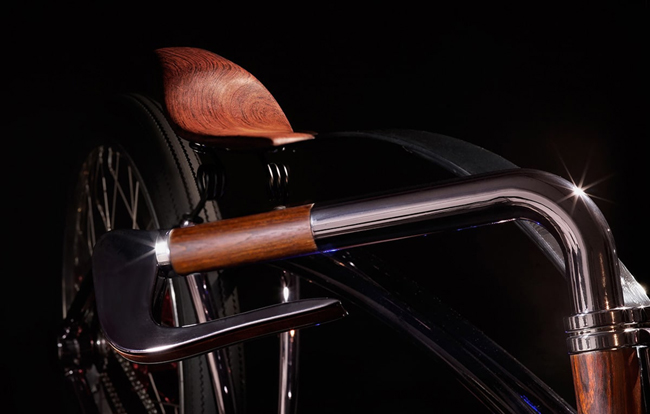 The front forks suspension turns smoothly into handlebars that end with massive horns. These are made of wood and form perfect protection for the hands. This may be particularly important for night or forest riders. Wooden throttle levers make one line with the handlebars. The brake's levers are reversed for better control, regardless of the hands' position.
The true heart of AVIONICS is a main wooden chest. This is a powerful monolith with no fastenings or screws. This aesthetic form is enclosed by leather bumper belts. The waterproof and dust-resistant chest protects the electronics and the battery inside. It is armed with an immobilizer, charging port, and USB port for programming AVIONICS and charging other electronic devices.
FRAME
The frame is responsible not only for the line and style, but also for safety and comfort. From the very beginning we knew what we wanted: an amazing effect! AVIONICS is made to enchant.
Our goal was to create something different from any other e-bike in the world. The one you cannot miss out on.
We were hungry for power and reliability. A one-of-a-kind frame was the answer. It would accommodate the controller and battery but still maintain a unique design.
THE EFFECT:
The transparent, light skeletal construction is surmounted with a leaf spring. This line combines aeronautical streamlining with daring sportiveness.
We decided to connect chrome steel with stainless steel. This combination seems to be heavier than aluminum or composite, but provides undisturbed confidence. Flexible steel wipes out vibrations to make you think of an easy flight.
All the frame pipes (except the main one) are bent in three dimensions. This turned out to be a huge challenge. It was not easy to find craftsmen who would be skilled enough to make it. Eventually we brought it to life!
All the frame seams are perfectly polished up so they are invisible. We chose deep black matte paint. After adding anodized and oiled components we achieved a stark and knobby effect.
LEAF SPRING:
This is what will distinguish us from other players.
The AVIONICS spring looks like an aerofoil and hangs on the front of the frame head. It is made of manually polished stainless steel completed with a wooden saddle. Two springs under a comfortable saddle ensure high quality of driving. The design offers sufficient proof of its extraordinariness to satisfy any skeptic.
The whole frame is made to be safe. Material strength and the gauge of the pipes bring our e-bike close to a motorcycle.
The battery operating mode "Force" lets AVIONICS attain speeds of 60 km/h (37 mph). The firm frame and saddle springs assure comfort and safety.
ELECTRICITY
AVIONICS is the quintessence of the retro-future machine. The first glance brings to mind the past days of the 30s and 40s. In those times things were designed to be beautiful, functional and everlasting. This idea inspired us through all stages of design.
The AVIONICS battery was divided into two parts. One half fits in the frame, the other (with the rest of the electronics) is placed in the wooden shaft. This solution let us install a 24 Ah battery made of high amperage industrial grade li-ion cells.
The Battery Management System is responsible for the battery safety. It protects cells from overcharge, over discharge and excessive current drain. Properly maintained batteries offer a few hundred charging cycles. This gives the perspective of many years of trouble-free operation with a slight decrease in capacity.
Depending on the driving style, the AVIONICS battery allows you to drive up to 120 km on one charge.
A big battery needs a proper charger – a high-amp fast charger!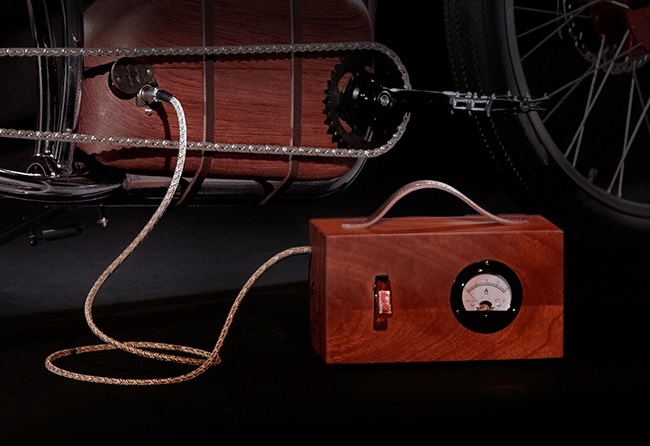 Avionics designed and built a super-fast digitally controlled cc/cv charger. A twelve-amp charging current puts Avionics on wheels in under two hours. This Supercharger will be available as a limited accessory.
As a standard, each AVIONICS will receive a slightly smaller 8A charger. It will allow a full battery charge in three to four hours.
It is worth mentioning the AVIONICS brain – the controller. It is a fully customizable, high-end, FOC controller offering full torque from zero RPM, regenerative braking, and noiseless operation.
AVIONICS is a raw, spartan piece of equipment. Its main task is to bring joy! At a time when mobile electronics literally surrounds and even overwhelms us, we deliberately and purposely abandoned all the gadgets in our bike. The only electronic gadget is an Immobilizer coupled with an electric wheel lock for safety.
Get in, release the throttle and go! Enjoy the silence, feel the wind and nature, forget the phone, laptop and wifi. Just ride! AVIONICS will not distract you with notifications, reports on available networks, flashing diodes. AVIONICS is quiet and modest. AVIONICS is your friend and companion, who is neither obtrusive nor arrogant but knows his value.
THE WOOD
The crude elegance of AVIONICS is completed by its wooden elements. Ascetic, cold steel construction contrasts with warm, cozy, high-quality wood.
The exceptional properties of jatoba were appreciated by Avionics ancestors who used the wood to produce car wheels or underlays for train tracks. Today we use it to make furniture, floors or even baths and swimming pools! Since it is waterproof it doesn't swell and, if properly maintained, it never cracks. All wooden elements are oiled in order to reach a deep, red-brown color. It matures just like a fine wine. Time makes it even nobler because the grains get more visible and the color gets deeper.
Jatoba was considered as a medicine
The biggest and the most visible wooden element is the main chest. This is where we placed the battery, controller, and electronics. This element of AVIONICS construction is a proof of design and functionality alliance. The beautiful wooden chest provides perfect security for the heart of our e-bike. Water, wind and dust will never get inside.
All of AVIONICS's wooden parts are milled on a CNC machine so they will have a universal, repeatable shape. Every single element is polished manually. Each element has its own story – the story of people, ideas, and the connotations involved. This is a part of our soul, the soul of AVIONICS.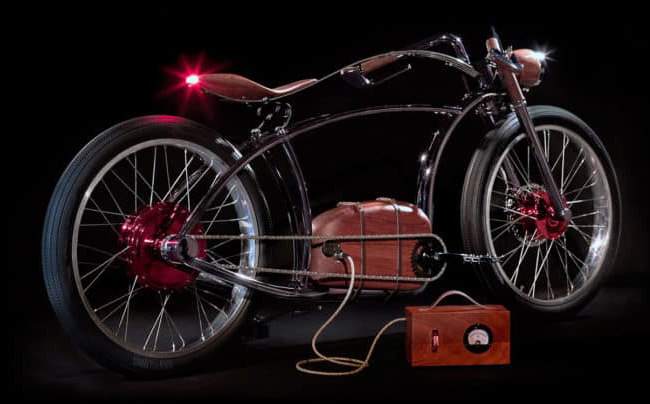 We deliver only in area of the European Union
Available payment method - EU bank transfer